ABF Finland in Helsinki and Tampere work with peer-support groups. These offer newly arrived migrants the opportunity to learn Finnish, seek employment or apply for a vocational training place. These activities are conducted in collaboration with adult education centers and higher education institutions.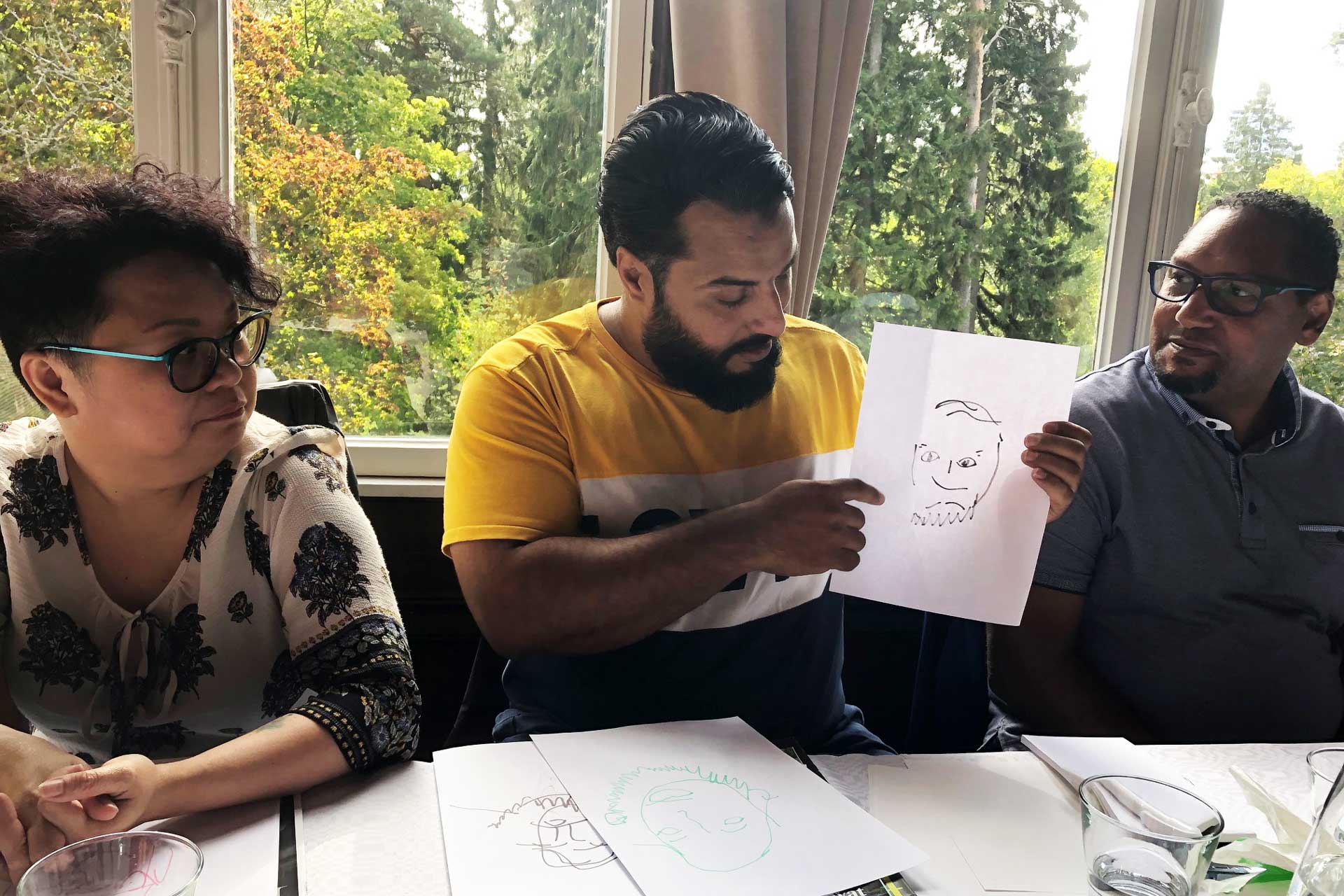 Työväen Sivistysliittoo (TSL)/Workers Educational Association (WEA)
Helsinki and Tampere, Finland
Purpose of the method
The purpose of the project is to intensify job seeking, strengthen the participants' knowledge of the Finnish language and of Finnish working life. It also aims to enable participants to realistically view their abilities and ambitions and encourage them to seek employment or further education.
Background
According to Finnish statistics, the level of employment for migrant women is only 40%. For women born in Finland, this figure is 70%. The Finnish public employment service is currently working under severe pressure, with a single employment officer being called on to support 400 clients. This leaves employment officers with very little time to interview job seekers regarding their skills and ambitions.
The lack of individual guidance particularly impacts on migrants with a low level of education – especially women. Catch up with work focuses on supporting long-term unemployed migrants who require extra help along the road to employment. The support groups assembled within the project help them to assess their skills and provide further information on working life in Finland, requirements on job seekers and how to find a job or further education.
The target groups are long-term unemployed migrants living in the Tampere and Helsinki areas who have been living in Finland for over three years. The activities are primarily aimed at women, as they experience higher levels of unemployment and have a greater need for support in finding their way in working life; however, men are also welcome.
Description of method
The participants are organized in peer-support groups that receive information and support from supervisors and one another; groups in which they meet as equals and learn together. All participants are interviewed prior to entering the project so that supervisors are aware of each participant's needs and situation and can tailor the content of group activities accordingly. Participants also have the opportunity to have a personal mentor who can offer one-on-one advice.
Group supervisors, who themselves have an immigrant background, are trained to lead the peer-support groups. The groups focus on working life. Group supervisors are awarded an Open Badge on completing their training and another once they have practical experience of leading a peer-support group. The award of an Open Badge makes the group supervisor's skills visible and reinforces their view of themselves as knowledgeable regarding Finnish working life and culture and group job seeking.
Each group meets on eight occasions, always at the same place. Visiting experts will sometimes address the groups: for example, regarding self-study of the Finnish language or contacting prospective employers.
In the groups, participants will learn about:
Finnish working life;
workplace culture;
seeking work;
job interviews;
employee rights and obligations;
the work of trade unions;
studying Finnish under their own steam; and
learning words and expressions specific to trades or professions.
Participants complete an evaluation form at their first and last meetings in which they can reflect over the knowledge they already possess and what the group needs in order to make progress. The supervisor of the peer-support group keeps a log detailing each group meeting, with information on the learning process, results and participants' needs. This data is then used to plan the content and themes of future meetings.
The pedagogical method used in peer-support groups is intended to strengthen and activate participants. Participants have the opportunity to vote on the themes they would like to see addressed in the group. The goal is to create an egalitarian environment in which group supervisors and participants are of equal value and where participants can learn valuable lessons from one another.
Study materials
The study materials used in the project are tailored to suit the groups. The material will be published together with the handbook Catch up with work in January 2020.
Results
The learning outcomes for participants have been evaluated based on five questions in an initial and final evaluation completed by the participants themselves.
The questions were answered on a scale of 1-5, where 1 = Very bad and 5 = Very good.
How good do you think you are at applying for jobs?
How good do you think you are at writing a job application in Finnish?
How good do you think you are at coping with job interviews in Finnish?
How good is your awareness of different professions and work tasks in Finland?
How good do you think you are at understanding your rights as an employee in Finland?
Based on the feedback from participants, they want to learn about:
Finnish working life;
the Finnish education system;
how to find a job;
trade unions;
vocabulary for working life;
how to integrate in working life;
work culture, what are suitable topics for discussion;
the Finnish language; and
how to interview for jobs
The forthcoming report Catch up with work will present the results of the surveys conducted with participants. This will reveal how many participants have since entered employment or education/training and what significance their participation in a peer-support group has had; for example, some participants have realized that they need to strengthen their Finnish-language skills before they can take the next step in working life.
Collaboration
The WEA is the main coordinator of the project, which is a collaboration with the Silta-Valmennus Association, Tampere Adult Education Centre (TAKK), the Institute of Adult Education in Helsinki and Tampere University.
Resources and funding
The project is financed by the European Social Fund (ESF) and has also received funds from the Finnish Trade Union for the Public and Welfare Sectors (JHL).
Experiences
It has proved extremely useful to learn about the needs of the target group if they are to take the next step into Finnish working life, the specific requirements that exist and the desire among participants to develop.
For many reasons, these individuals – who have had only a brief period in education, who have limited linguistic skills and who have lived closely with only their immediate families – have a long way to go before they are able to obtain gainful employment. Nevertheless, we have seen that through these peer-support groups they have been able to gain knowledge of their rights and possibilities, to bring them closer to working life. Their peers and group supervisors empowered them and provided them with ideas – two of the most important building blocks in this process.
Links
https://www.emetransnational.net/emeproject/partners/tyovaen-sivistysliitto-tsl-worker-s/
https://emetransnational.blogspot.com/2019/08/peer-support-method-helps-immigrants-to_23.html
https://www.youtube.com/watch?v=pB_2cR02fj4&t=31s
Contact
If you have any questions about the method, please contact TSL.