Song as a tool for learning Swedish: in the Integration Choir, people meet around a shared interest. The future of the choir became a motivation!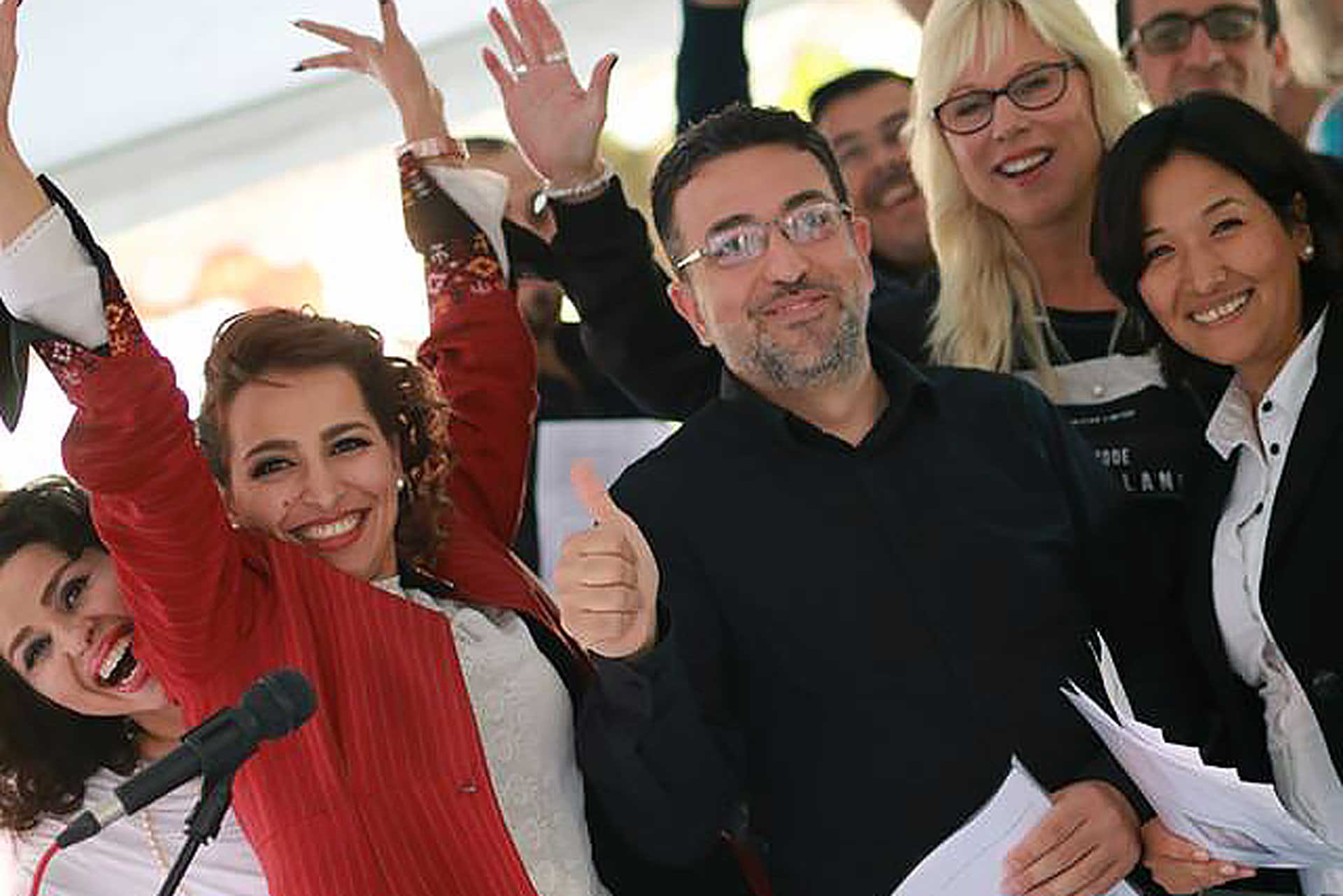 ABF Östergötland
Norrköping, Sweden
Purpose of the method
The Integration Choir was intended to strengthen newly arrived immigrants by helping them to learn Swedish. Through the choir, ABF Östergötland also hoped to create joy and reduce stress and concern as the participants focused on an activity they found enjoyable.
Background
Norrköping accepted a great many asylum seekers, as refugees streamed into Sweden during autumn 2015 and spring 2016. Faced with so many seeking asylum, Norrköping Municipality established an integration fund from which civil society could seek financing for various projects to promote integration.
ABF Östergötland applied for and received a grant from the fund, after which it started a number of activities including study circles on cooking, sewing, woodwork, dance, guitar, piano, drumming/percussion, painting and parenting – and the Integration Choir. ABF's intention was to offer all migrants the opportunity to accelerate their integration and increase their wellbeing based on their own interests.
The Integration Choir was started because so many newly arrived migrants were musical and enjoyed singing, making a choir an appropriate activity to satisfy both their musical interests and desire to meet native Swedes and practice the Swedish they had learnt in ABF's Swedish-language circles. The leaders of ABF's Swedish-language circles were positive about the activity, having noted the difficulty that many migrants experience in pronouncing the language's long and short vowels.
The choir was free to participants. The choirmaster's fees were paid by the Norrköping Municipality Integration Fund and ABF.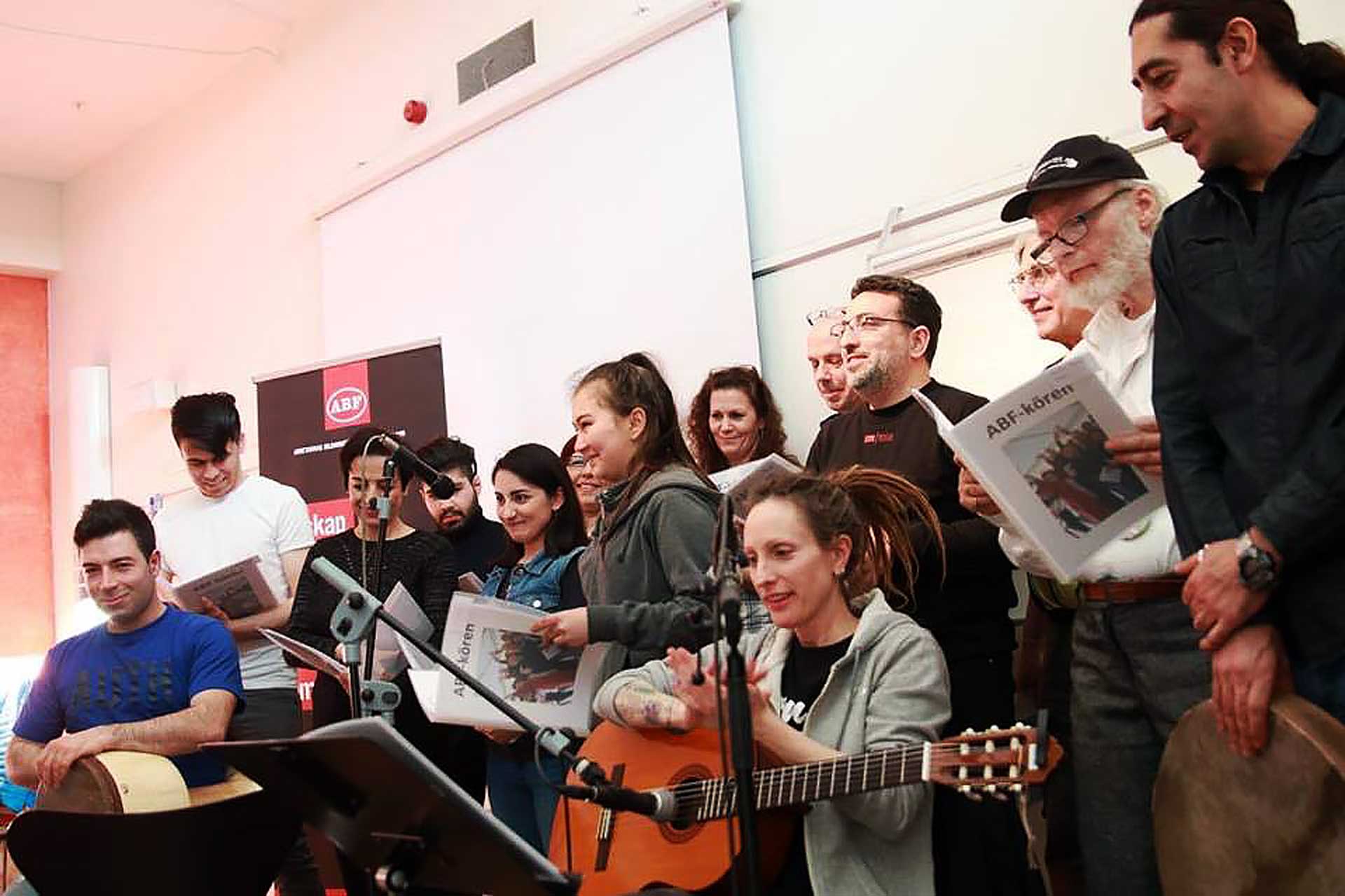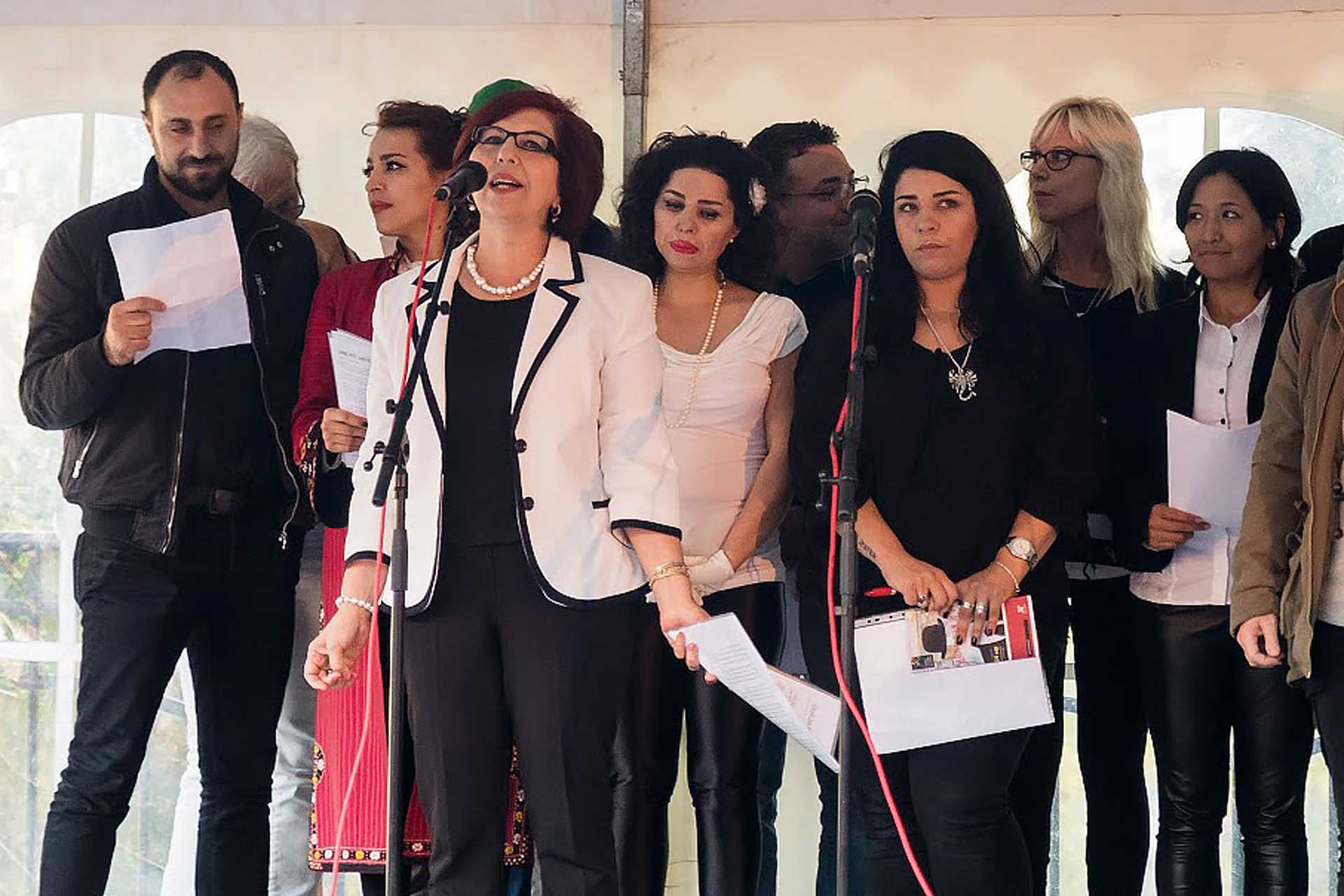 Description of method
ABF's activity leaders, who also performed in the Integration Choir, disseminated information about it via both word of mouth and social media. Both migrants and native Swedes were invited to an initial meeting in spring 2016. No demands were placed on the participants' singing ability; everyone who wanted to take part was made welcome.
The choir met once a week to rehearse Swedish songs chosen by the choirmaster based on what she felt would suit the group. Each meeting began with listening to the songs chosen by the choirmaster, after which the group studied the meaning of each song's lyrics and how the words were pronounced. Participants were given the homework of listening to songs on Spotify in preparation for the next meeting. It was common when meeting choir members in other contexts to find them humming or listening to songs from the choir's repertoire.
The choir maintained a steady membership of 15 people, with some leaving and others joining over the course of the project. 50% of them came from a Swedish background.
Several of the migrants had a background in playing various percussion instruments, resulting in new interpretations of the Swedish songs.
After a couple of months preparation, the Integration Choir performed its first concert. This was very exciting for the participants. During the two and a half years of the choir's existence, it performed for an audience on 35 occasions, largely in Norrköping itself but also around the Östergötland region. Each term concluded with a restaurant visit financed from the fees received by the choir for some of their performances.
Results
Attendance was very high at choir rehearsals. The ability of participants to express themselves in Swedish improved and ABF cemented close links with many of them. There was a family atmosphere among the group and the joy of participants was noticeable. The many performances strengthened the group; had the activity been confined to rehearsals, it is unlikely that it would have been as successful. The excitement of performing together on stage, with everyone giving their very best, reinforced the sense of community. Even though it were not a professional choir, everyone involved wanted to show that it was a good one!
The members of the choir were strengthened by their participation in the project. They enjoyed personal development and increased self-confidence. Naturally, participation in the choir took place in conjunction with other parallel activities such as Swedish-language circles at ABF and language cafés; for example, ABF collaborates with Equal Rights For Integration and One Norrköping for All.
The Integration Choir also broadened the participants' networks. Many of them are now members of other choirs in Norrköping, while some have even been hired to perform in various contexts, including local events Utomhusbio and Kulturafton. At these types of events they may also sing in their native language and play instruments typical of their homeland, thus disseminating the migrant culture and music.
Experiences
The Integration Choir has demonstrated that activities outside of pure study circles can both strengthen the participants' Swedish-language skills and increase their wellbeing. The Integration Choir has also increased mutual understanding between newly arrived migrants and Swedes, both among choir members and those attending their concerts. 
Study materials
Röda sångboken (The Red Songbook) and various other music books
YouTube
Spotify
Collaboration
Norrköping Municipality
Swedish National Pensioners' Organisation (PRO)
Hageby i samverkan (Hageby in Collaboration)
Church of Sweden and several other organisations
Resources and funding
The Integration Choir was financed by Norrköping Municipality's Integration Fund and ABF Östergötland. This funding covered the choirmaster's fees for two hours a week for two and a half years, as well as materials costs for songbooks, binders, etc.
Contact
If you have any questions about the method, please contact ABF Östergötland.